Merchandise
A New Sky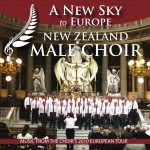 This CD  celebrates the release of New Zealands Philip Norman commissioned composition "A New Sky" that was first performed on the choirs European in 2010. The CD also features Opus 127 "Messe" from Josef Rheinberger that the choir performed in LA Madeleine and Notre Dame in Paris, Salzburg and in St Stephans Dom in Vienna.
The tracks that are included on the CD are:
Whakarongo Ake Au – Waiata
Te Aroha- Waiata
"A New Sky (2009)" that  includes;
     O Spirit of the Earth
     Keep us Humble
     Tis a Silent Land
     Our Christmas
     Our Cities face the sea
"Opus 127- Rheinberger Messe" that includes;
     Ave Maria
     Kyrie
     Gloria
     Sanctus
     Benedictus
     Agnus Dei
Enquire
A Powerful Journey
"A Powerful Journey" was recorded in Christchurch in 2008 and represents a broad selection from the choir's repertoire. Male voices offer the listener an exciting range of tones and nuances that are heard through the variety of songs presented. This CD seeks to provide broad appeal from soul to classical, jazz to traditional choral. Four part harmonies evolve to eight part complex harmonics to the pure but difficult unison chorals.
The tracks that are included on the CD are:
Mill Mud – A New Zealand bush ballad
Heriwn, Wynebwn y Wawr – A Welsh folk song
For the Fallen – A song of remembrance
Wade in the Water – a traditional spiritual
My Lord What a Mornin' – a traditional spiritual
Carrickfergus – An Irish folk song
Bring Him Home – from les Miserables
Morte Christe – a Welsh hymn tune
Away from the Roll of the Sea – a Canadian folk song
The Sorrows of Werther – A love song on a Thackeray poem
Softly As I Leave You – a modern love song
Ave Maris Stella – a traditional hymn tune
In Flanders Fields – a song of remembrance
The Impossible Dream – from the Man of Le Mancha
Li'l Liza Jane – an American folk song
Enquire